Edit PDF Documents Online in Salesforce
The best document editing solution for Salesforce
The DaDaDocs Salesforce integration is a complete online editor for typing, editing, erasing, blacking out and annotating text as well as signing documents. Work with Word and PDF files in your Salesforce account, and share documents with your partners making them available to anyone on any mobile device.
Edit PDF Documents Online
Have you ever needed to edit sales contract or invoice stored in your Salesforce account?
You can easily edit your invoices, agreements, and sales contracts right in a Salesforce account using all the useful pdfFiller features. There is no need to use scanner or printer anymore. Let's see what steps we should take for editing the PDF or Word documents.
After installing the pdfFiller package to your Salesforce account, you have the opportunity to change the look of your PDF and Word documents instantly.
To get started, select the Salesforce object and click the drop-down menu near the required Word or PDF document on the right. Click on Edit.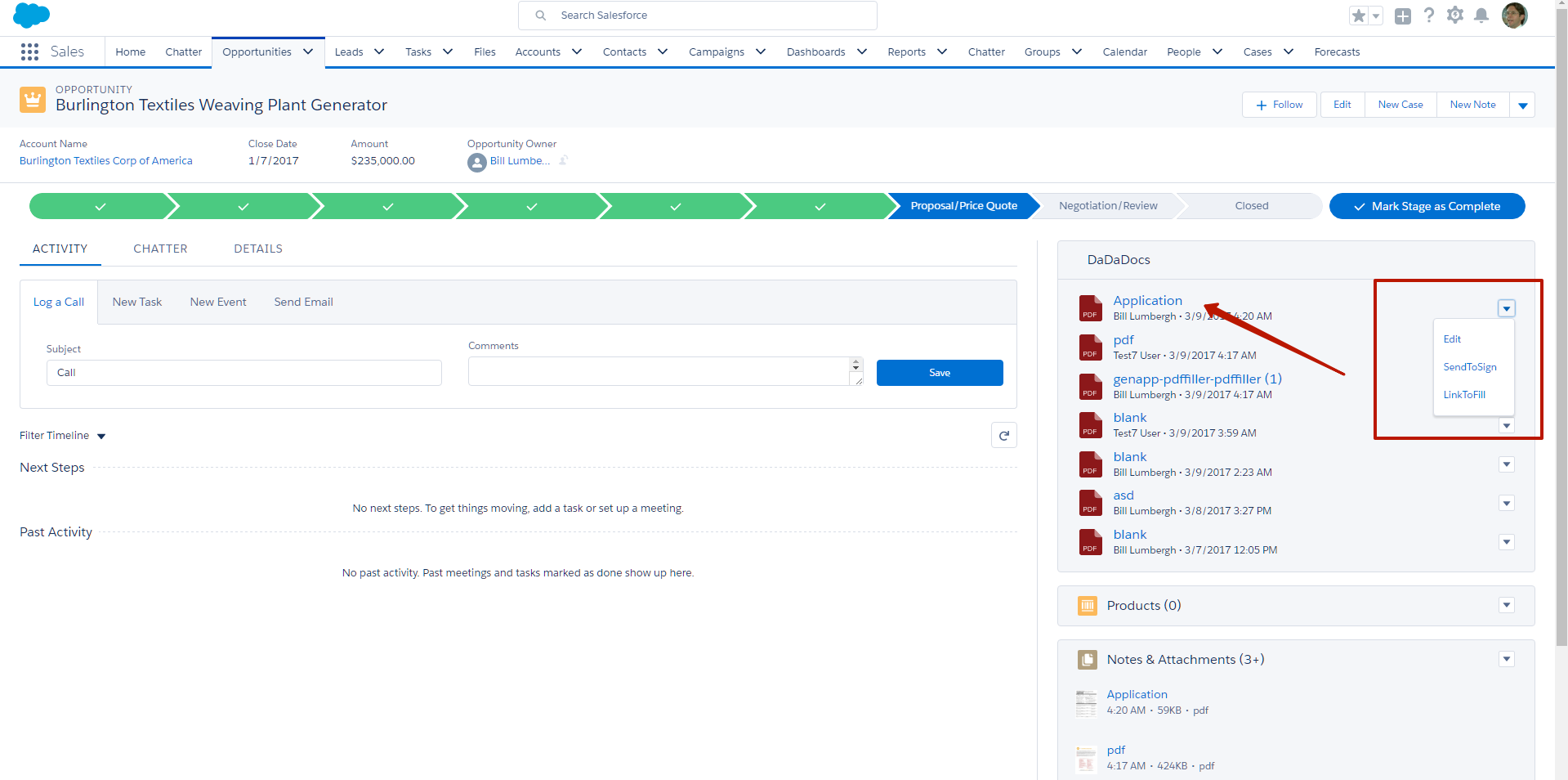 Once your document is opened, pdfFiller converts it into editable format. Feel free to change it according to your needs.
You can use all the powerful pdfFiller editing tools now. Choose the Text button and start typing. If you want to spellcheck the information you add, move the Spelling slider to the right. Move text by dragging the text box. You can change the font type, color or size by clicking the corresponding dropdown in the toolbar. To underline your text, to make it bold or italic, use the "U", "B", and "I" icons.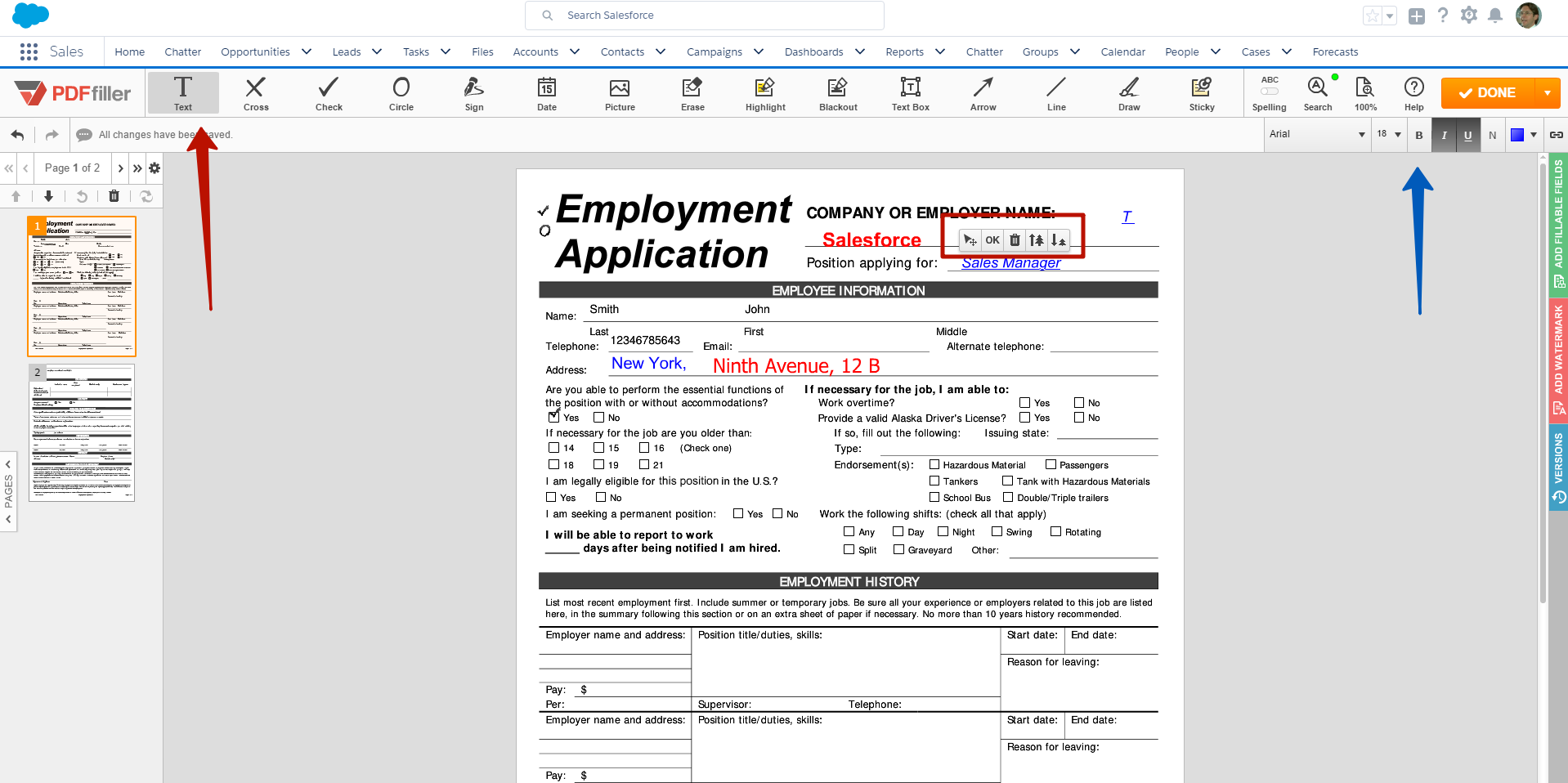 To delete text, just click the trash can icon in the mini toolbar.
Click the respective buttons in the Edit tab and edit the document by highlighting, blacking out or erasing any text or image.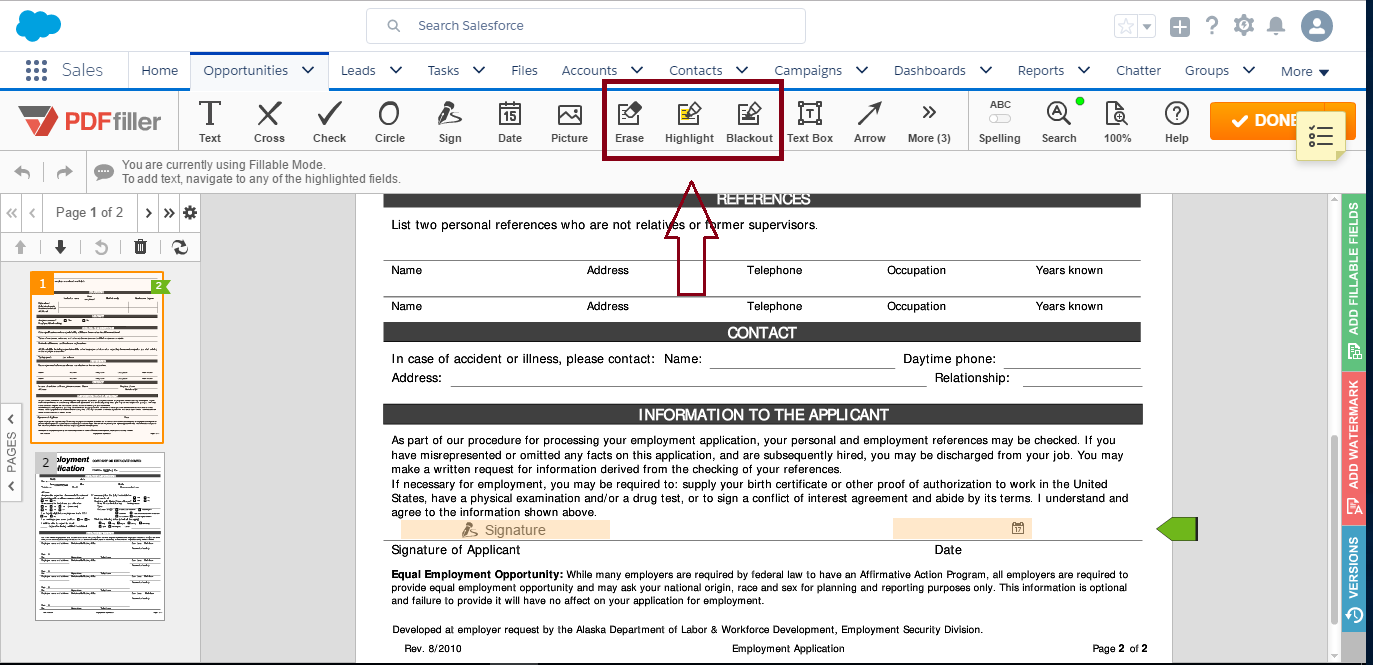 Click the Sign or Picture button to sign your document or insert an image or company logo.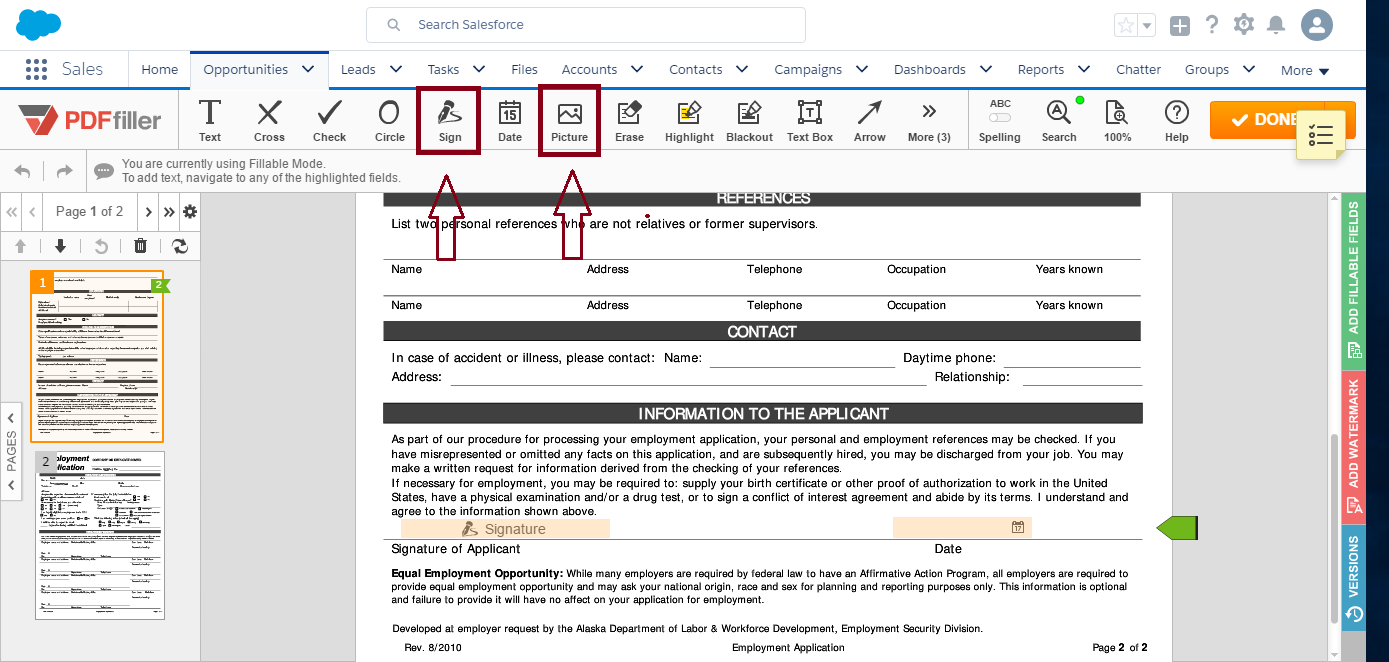 You can also add sticky notes, text boxes, fillable fields, checkboxes, graphs, and diagrams.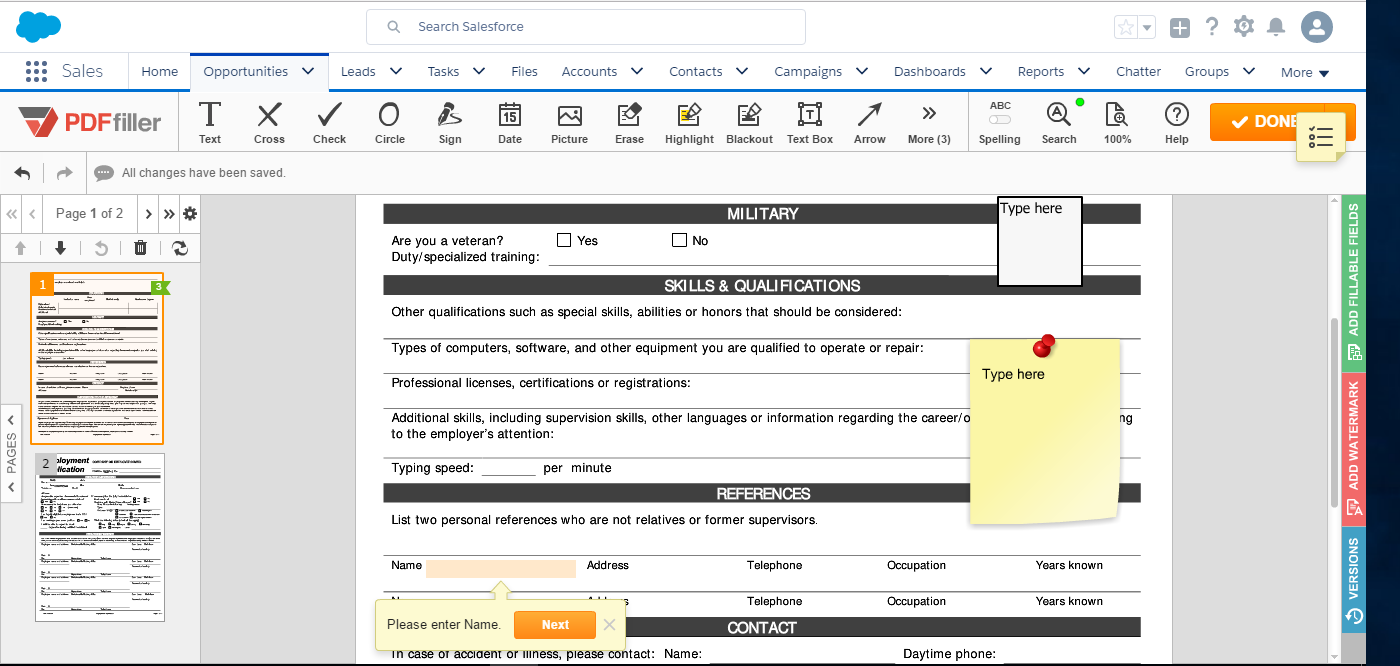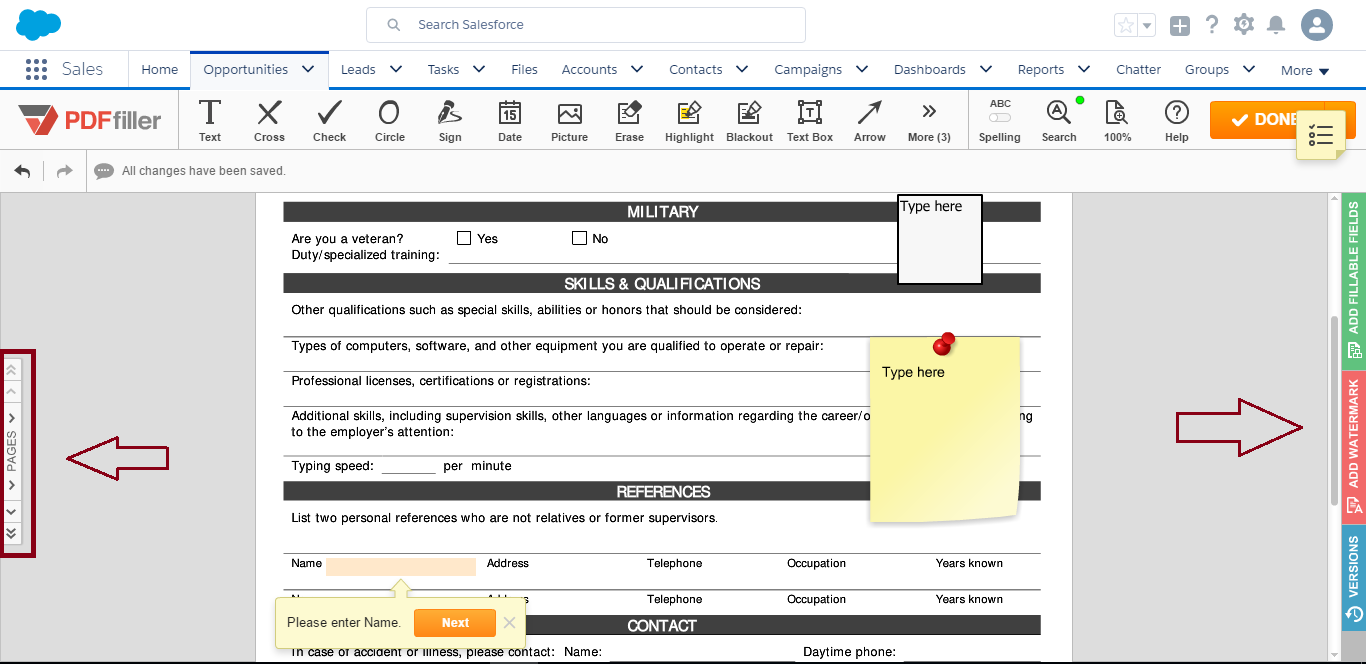 When you have finished editing, click the Done button in the top right corner and save your document back to your Salesforce account, send it out for signing or turn into interactive fillable form available to anyone to fill out from any device.
Read Our Customer Success Stories
Cloud Based PDF Editor, eSignature Manager & Document Generator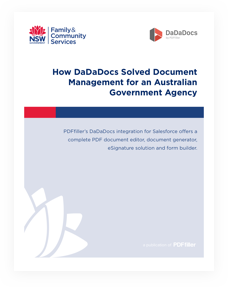 Government Agency Uses DaDaDocs
An Australian government agency uses DaDaDocs for Salesforce to securely redact, edit and sign PDF documents.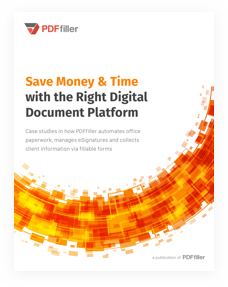 How Businesses Save with Us
Businesses use pdfFiller to collect information, automate paperwork, edit PDF documents and get eSignatures.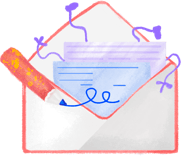 Tell us about your business
Fill out the form on the right so that our sales representative can contact you and provide the best solution for your business needs.